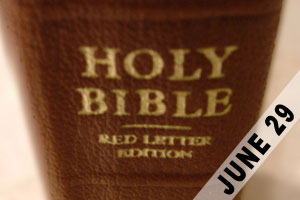 Today's Scripture
2 Kings 15:1-16:20 / Acts 19:13-41 / Psalm 147:1-20 / Proverbs 18:4-5
—————————————————————–
Daily Bible Reading Extra – New Testament – Acts 19:13-41
A Riot at Ephesus
Expository preaching by John MacArthur just click on the title below
This guy Sceva must have been something. He had seven sons that went around casting out demons, supposedly. And says he was the chief of the priests. You mean chief priest? Well, it's highly unlikely. He may have belonged to the high priestly family. But most likely he just gave himself that title. He just probably gave himself the title as a matter of prestige in his magical rites.
Now, look what happened. And it wasn't all seven of them, as we shall see in a moment. But the ones who did come to this particular guy, said, "We adjure by Jesus whom Paul preaches" – in verse 15 – "The evil spirit answered and said, 'Jesus I know and Paul I know, but who are you?'" I like that. "What do you guys think you're doing?" That's good. Their little magical effort blew up. Interesting notes here, "the evil spirit answered and said." Of course, evil spirits can speak with a human voice.
In Isaiah 8:19, it says that there are mediums and wizards and demons that peep and mutter. And the word there has to do with ventriloquism. They actually can speak through the human voice, and that's very, very common. And so the evil spirit spoke through the man in a – in a voice that probably did not sound like the man's own voice but someone distorted, and said, "Jesus I know."
You say, "Did the demons know Jesus?" Of course. Demons were all created at one time, and they were created originally as what? As angels. And they spent the whole occupation of their existence praising God. They knew Him well. They spent all of eternity past from the time of their creation with Him up until the fall. And once they fell, you can believe they knew who He was, too. They didn't lose that knowledge. This demon says, "Jesus I know," he wasn't kidding. And the word "know" that he uses means personal knowledge. He knew Jesus.