One Year Bible Notes
Read / Listen / Video
Leviticus 22:17-23:44
Mark 9:30-10:12
Psalm 44:1-8
Proverbs 10:19
---

New Testament
Mark 9:30-10:12
Summary
Jesus Again Foretells Death, Resurrection, Who Is the Greatest?, Anyone Not Against Us Is for Us, Temptations to Sin, Teaching About Divorce
Mark 9:40: For he that is not against us, is on our part. – Many copies read, "he that is not against you, is for you"; as this man; he was not against either Christ, or his disciples; he was doing the same work, promoting the same interest, and destroying the kingdom of Satan: and therefore, though he did not follow them, and had not his commission immediately from Christ; yet, inasmuch as he was opposing the same common enemy, and did nothing against them, he ought to be reckoned as one for them, and on their side. It is a proverbial expression, signifying that all that are not against a man, and take not the part of his enemy, are to be accounted his friends.
---
Listen to John MacArthur on today's scripture below: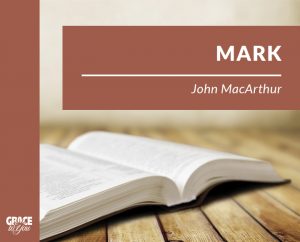 Mark by John MacArthur
All of that relates to our theme of humility, and you will see that as we work through it. If I were to title this section and the lesson, I might call it, "The Virtue of Being Last" – "The Virtue of Being Last." That title would seem offensive to the culture in which you and I live because everybody wants to be first – number one – that's the whole idea. Humility is not viewed as a virtue in our culture, and it wasn't viewed as a virtue in ancient pagan culture, either. And it's not just a cultural issue. Humility is foreign to fallen DNA. Humility is alien to the human heart.
This is a very unique portion of Scripture. It is full of graphic terminology, dramatic acts, severe warnings, and rather violent threats. It really is a passage about radical discipleship, and the language bears testimony to that. It calls for radical behaviors, and it shows us just how radical it is to be a true disciple of Jesus Christ. Our Lord here, in these verses, is calling for radical discipleship. I think this is a message that is highly necessary for the day in which we live when under the name of Christianity and even evangelical Christianity, there is so much superficiality.
Humble Thyself in the Sight of the Lord
---
Mark 9:30-32. And they departed thence, and passed through Galilee; and he would not that any man should know it. For he taught his disciples, and said unto them, The Son of man is delivered into the hands of men, and they shall kill him; and after that he is killed, he shall rise the third day. But they understood not that saying, and were afraid to ask him.
See how intense he was; always thinking of his approaching death, that cruel, bitter death, yet he hasted towards it, longed for that baptism to be accomplished, for the great redeeming price to be paid. Oh, that you and I were as fully absorbed in the service of God as our great Master was!
Hits: 146