Genesis 3:1-4:26
Matthew 2:13-3:6
Psalm 2:1-12
Proverbs 1:7-9
Read Today's Scripture – Click Here
Click on the Play Button below to Listen to Today's Scripture
---



New Testament:
Matthew 2:13-3:6
"Repent, for the kingdom of heaven is at hand." ~ Matthew 3:2
Summary: 
The Flight to Egypt
Herod Kills the Children
The Return to Nazareth
John the Baptist Prepares the Way
Confessing their sins, they were baptized by him in the Jordan River. ~ Matthew 3:6
baptized. The symbolism of John's baptism likely has its roots in OT purification rituals (Lev_15:13). Baptism had also long been administered to Gentile proselytes coming into Judaism. The baptism of John thus powerfully and dramatically symbolizes repentance. Jews accepting John's baptism were admitting they had been as Gentiles and needed to become the people of God genuinely, inwardly (an amazing admission, given their hatred of Gentiles). The people were repenting in anticipation of the Messiah's arrival. The meaning of John's baptism differs somewhat from Christian baptism (Act_18:25). Actually, Christian baptism altered the significance of the ritual, symbolizing the believer's identification with Christ in His death, burial, and resurrection (Rom_6:3-5; Col_2:12).
From ~
MacArthur Bible Commentary
---
---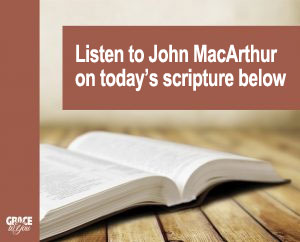 J Vernon Mcgee – Thru the Bible
Rich Mullins – My Deliverer – Rick Elias A Ragamuffin Band
Hits: 54