Genesis 5:1-7:24
Matthew 3:7-4:11
Psalm 3:1-8
Proverbs 1:10-19
Read Today's Scripture – Click Here
Click on the Play Button below to Listen to Today's Scripture
---



New Testament:
Matthew 3:7-4:11
But He answered and said, "It is written: 'MAN SHALL NOT LIVE ON BREAD ALONE, BUT ON EVERY WORD THAT COMES OUT OF THE MOUTH OF GOD.'" ~ Matthew 4:4
Summary: 
The Baptism of Jesus
The Temptation of Jesus
(Satan) said to Him, "If You are the Son of God, throw Yourself down. For it is written: 'HE SHALL GIVE HIS ANGELS CHARGE OVER YOU,' and, IN THEIR HANDS THEY SHALL BEAR YOU UP, LEST YOU DASH YOUR FOOT AGAINST A STONE.' " ~ Matthew 4:6
Please see how Satan will also quotes Scripture (Psa_91:11-12) but will twist its meaning, using a passage about trusting God in a flawed attempt to justify testing Jesus. Yes Satan does this often through preachers, people and books to try and trick you. Another very good reason you need to know the bible.
---
---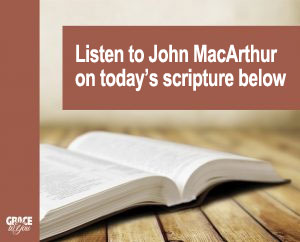 J Vernon Mcgee – Thru the Bible
Hits: 50