Genesis 18:16-19:38
Matthew 6:25-7:14
Psalm 8:1-9
Proverbs 2:6-15
Read Today's Scripture – Click Here
Click on the Play Button below to Listen to Today's Scripture
---



New Testament:
Matthew 6:25-7:14
Summary:
Do Not Be Anxious
Judging Others
Ask, and It Will Be Given
The Golden Rule

"Therefore I tell you, do not worry about your life, what you will eat or drink; or about your body, what you will wear. Is not life more than food, and the body more than clothes? Look at the birds of the air; they do not sow or reap or store away in barns, and yet your heavenly Father feeds them. Are you not much more valuable than they? ~ Matthew 6:25-26
"Did you ever see a beast, or a fowl, that had a trade? but they are fed without trouble." In the Gemara is added, "Did you ever see a lion bearing burdens, an hart gathering summer fruits, a fox a money changer, or a wolf selling pots? And yet "they are nourished without labour", and wherefore are they created? To serve me, and I am created to serve my Maker: and lo! these things have in them an argument, "from the less to the greater"; for if these, which are created to serve me after this manner, are supported without trouble; I, who am created to serve my Maker, is it not fit that I should be supplied without trouble?     And what is the reason that I am sustained with trouble? My sins."
From: John Gill's Exposition of the Entire Bible
But seek first his kingdom and his righteousness, and all these things will be given to you as well. ~ Matthew 6:33
"Do not judge, or you too will be judged. ~ Matthew 7:1
Judge not. As the context reveals, this direction does not prohibit all types of judging (Mat_7:16). We are supposed to exercise a righteous kind of judgment with careful discernment (Joh_7:24). Censorious, hypocritical, self-righteous, or other kinds of unfair judgments are forbidden; but in order to fulfill the commandments that follow, it is necessary to discern dogs and swine (Mat_7:6) from one's own brethren (Mat_7:3-5).
From: MacArthur Bible Commentary
"Enter through the narrow gate. For wide is the gate and broad is the road that leads to destruction, and many enter through it. But small is the gate and narrow the road that leads to life, and only a few find it. ~ Matthew 7:13-14
Many people think that both the narrow gate and the wide gate provide the entrance to God's kingdom. These do represent two ways that people live. But only the narrow gate—constricted and precise, salvation by faith through Christ alone—is God's way that leads to life eternal. The wide gate includes all religions of works and self-righteousness, with no single way (cf. Act_4:12); but it leads to hell, not heaven.
From: MacArthur Bible Commentary
---
---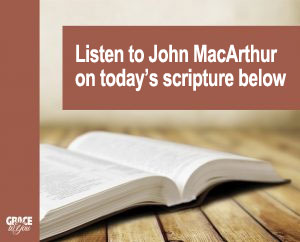 J Vernon Mcgee – Thru the Bible
Hits: 56