One Year Bible Notes
Read / Listen / Video
Leviticus 24:1-25:46
Mark 10:13-31
Psalm 44:9-26
Proverbs 10:20-21
---

New Testament
Mark 10:13-31
Summary
Let the Children Come to Me, The Rich Young Man
And he said to Him, "Teacher, I have kept all these things from my youth up." Looking at him, Jesus felt a love for him and said to him, "One thing you lack: go and sell all you possess and give to the poor, and you will have treasure in heaven; and come, follow Me." But at these words he was saddened, and he went away grieving, for he was one who owned much property. And Jesus, looking around, *said to His disciples, "How hard it will be for those who are wealthy to enter the kingdom of God!" The disciples were amazed at His words. But Jesus *answered again and *said to them, "Children, how hard it is to enter the kingdom of God! "It is easier for a camel to go through the eye of a needle than for a rich man to enter the kingdom of God." ~ Mark 10:20-25
---
Listen to John MacArthur on today's scripture below: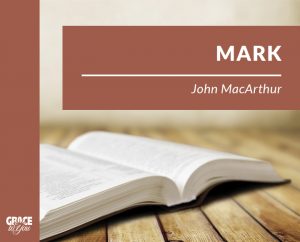 Mark by John MacArthur
 Mark 10:13–16

You know, for many people and even for many commentators, this is a passage to be overlooked. This is something to kind of skip through because it doesn't seem to carry much import. But quite the contrary, it's one of the really most important passages in the gospels of Matthew, Mark, and Luke, because it answers this very vast, far-reaching question of what happens to babies that die. And since through the history of the world and counted millions of children have died in infancy or early childhood and they continue to do so even in the world today, it is a huge question to answer.
Where are all the souls of all those children that have died? This is the passage that, more than any, answers that question, and I think it answers it very, very clearly. What we see here is the Lord blessing these little children, and God doesn't bless those who are cursed, and Jesus never pronounced a blessing on any other than a person who belonged in His kingdom. So this is a very unique situation where our Lord blesses little children.
 Mark 10:17–22
Here we learn from the life of our Lord the reality of how to deal with a selfish, shallow seeker who in this case is extremely religious. And the central point of this encounter is that proud, selfish people – no matter how much they may say they want eternal life – are not prepared to receive it. This young man failed the greatest test of his life. He was offered a choice between himself and God, between fulfillment here and now and fulfillment in the life to come. The question was: What was more valuable to him? God and the life to come or his own will and the present life?

Stop right there. Bottom line, you can't save yourself. Right? Any more than you can stuff a camel through the eye of a needle. The sinner, by his own power and his own will and his money and his religion and his morality, cannot save himself. He cannot enter the kingdom. He cannot inherit eternal life. And he cannot be saved. We're not talking about the fact that it's psychologically difficult for rich people to do that, although that's true. We're not talking about the fact that it's a misconception theologically to think you can buy your way in, and it's not until you know you can't buy your way in that you can actually get in.
---
Mark 10:21. And said unto him, One thing thou lackest: go thy way, sell whatsoever thou hast, and give to the poor, and thou shalt have treasure in heaven: and come, take up the cross, and follow me.
He knew that there was a weak point in the young man's character — that he did not yet supremely love God, but loved his wealth — that he was living for this world, after all. And are there not many such — most correct in character? No one could point to a single flaw in their morals, but they are living purely for self — altogether that they may buy and sell, and get gain. No thought of God, except a fear lest they should come under his rod, but no thought of serving him, and laying themselves out for his glory, nor much thought, either, for their fellow-men. Christ had hit the blot —marked it out for him.
Hits: 136